Van der Pluijm, M., Van Gelderen, A., Lusse, M., & Kessels, J. (2021). How can teachers build partnerships with lower-educated parents in support of young children's oral language development? Early Education and Development.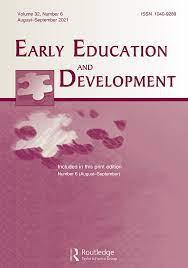 Martine van der Pluijm, Amos van Gelderen, Mariette Lusse & Joseph Kessels (2021) How Can Teachers Build Partnerships with Lower-educated Parents in Support of Young Children's Oral Language Development? Evaluation of an Adaptive Program, Early Education and Development, DOI: 10.1080/10409289.2021.1908782
ABSTRACT
Research Findings: The parental role in supporting young children's oral language development at home is crucial for children's language and literacy development. However, there is limited expertise in how teachers can support lower-educated parents effectively to enhance their interactions with their children and stimulate the use of language. Therefore, teachers need specific knowledge and training in how to establish partnerships with these parents and provide support adapted to the home language environment. This multiple case study describes the evaluation of a program for teachers aiming to build school-family partnerships focused on stimulating young children's oral language development. It investigates abilities of 14 teachers to adhere to the program principles and to adapt these to parents' needs by means of triangulation, using teacher self-reports and observations before and after implementation of the program. This study shows how teachers can increase their competences to work with parents and how this change contributes to professional satisfaction. Practice or Policy: This study contributes to understanding how an adaptive approach creates opportunities for teachers to extend their roles in classrooms and build partnerships with all parents, bridging the gap between lower-educated families and schools as the two most important domains where young children acquire language.