Dialogue on Knowledge Productivity at the World Bank, Washington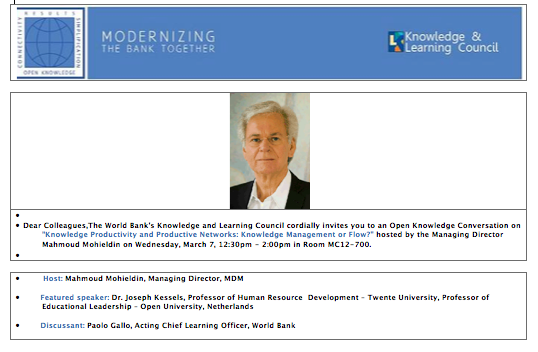 07 Mar 2012 00:00
The World Bank's Knowledge and Learning Council invited Joseph Kessels to an Open Knowledge Conversation on "Knowledge Productivity and Productive Networks: Knowledge Management or Flow?" hosted by the Managing Director Mahmoud Mohieldin on Wednesday, March 7, 2012,
Discussant: Paolo Gallo, Acting Chief Learning Officer, World Bank



Dr. Kessels shared his research findings on the relationship between knowledge productivity, innovation, social capital and leadership.
He addressed the following topics:


• Key factors that contribute to knowledge productivity

• The dilemma of pushing for performance and enticing for learning

• How to facilitate social capital and knowledge productivity in global networks?


Making knowledge productive is the critical element in the process of value creation. Financial capital, natural resources and labor will remain important assets, however, the capacity of transforming knowledge into competencies for gradual improvement and radical innovation will become the essential fuel for the growth engine of value creation in companies, institutions and countries. 

Knowledge productivity requires an attractive learning climate that encourages building connections and an imaginative and entrepreneurial spirit, not only at the top but at all levels in companies, institutions and countries.
Dr. Kessels' talk addressed the implications of knowledge productivity and value creation and what this could mean for the leadership role of the World Bank. He also discussed how the World Bank might consider fostering social capital, build absorptive capacity and participate in lateral networks for learning, development and knowledge productivity.


The hand-out of his presentation is attached below.